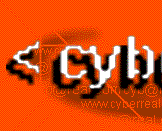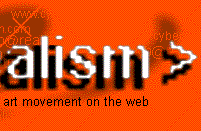 Cyberrealism is an expectation.....
The changing lifestyles,attitude and the media has
always given birth to new art movements.
Like the Pop, Dada and Surrealism.
This site is dedicated to all those who are anxious to see
what the new era and medium has in store for the future.....
And also to those who believe,
it just takes a mind with which you can see, hear, and feel art,
to be an artist.

---
this site, best viewed in netscape communicator.
designed and maintained by raj. send in your comments to,
raj@abhikalpa.idc.iitb.ernet.in